Tarkus came into my life one cold, windy Winter night. I was living at Wittenburg University in Springfield, OH where I was a member of the computer dept at the school. I had a German Shepherd named Tabetha at the time. One of our little rituals was to walk around the campus every day. If gave the dog a chance to get our and was good exercise for me.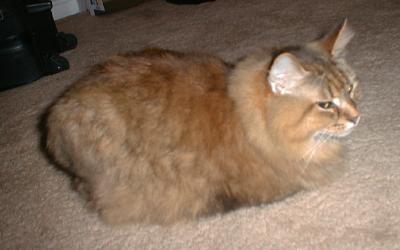 Well, about 10 minutes into our walk, Tabetha became very interested in something up at the old house that the campus security used for an office. I decided to let her go up that way to see what was so interesting. To my surprise, there was a small kitten who was crying and crying. Figuring that the campus security had a pet, I decided to continue on our walk about campus. It was cold, windy and dark, so I was not very interested in just standing about. To my surprise, the kitten started to follow up. He cried and cried, but kept up with us. Tabetha was very interested in the kitten, but having grown up with cats, it was no big deal.
No matter how far we went on our walk, this kitten continued to follow us. I am sure we walked over several miles, but that kitten just kept pace with us. By the time we got home, the little guy was still keeping up with us. I decided that if this kitten had nothing better to do on a cold, snowy, windy night than to follow a stranger and a big dog, then this little guy needed a home. Besides, I figured he would make a good companion for the other kitten I had, Hotep.
After a few moments with him in the house, I quickly realized that he was COVERED in fleas! I then spent the next 2 hours (literally) combing the fleas out of his fur. While he was very unhappy about it, he was 100% flea free when I finished.
Tarkus has since grown into a very gentle, kind cat who wants nothing more than to be friends. While a little timid around people at first, he is often the first one to actually come out and make actual contact with people.